Tip #1 – Be yourself. My favorite photos are the ones where the couple looks and feels like themselves. Wearing an outfit you're comfortable in will only accentuate your style and personality.
Engagement shoot is an opportunity to enhance your natural beauty. Even if you don't normally wear makeup, cameras have a sneaky way of picking up uneven tones on our faces. So little foundation and mascara will go a long way toward making your pictures reflect how you look every day.
Tip #2 – Complement each other. Coordinating colors can be cute. BUT, matching white tees and jeans? …not so much. Don't wear matching outfits, it's overdone. Instead, I recommend choosing colors in the same family, as they'll complement each other and photograph very well. Or think bold — "Think purple with yellow, blue with orange, blue with cherry red."
Tip #3 – Show your true colors. Black might be slimming, but I generally advise couples not to wear it since it leads to every speck of dust and hair being easily caught on camera. Try pairing a solid, bold color dress or blouse with your fiancé wearing a plain light color shirt, which flattered each other beautifully without blinding the camera.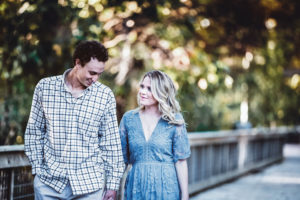 Tip #4– Dress on the same scale. On the day of your photo shoot, you should both look like you're headed to the same place. Wear clothes that are on the same level of dressiness or casualness.
Tip #5 – Comfort is key. If you have to jump up and down in your jeans to get them to fit, you might want to opt for something you'll feel more free to move in. If a strapless dress is in your "maybe" pile, think about whether or not you'll feel confident or will constantly be adjusting your dress. The better you feel in your clothes, the better you'll look in front of the camera, so don't overthink it.
Tip #6 – Play off the location. If your photos will be taken in a park, green color might camouflage you with the grass and trees. A complimentary color, like a light red or yellow dress/top, would pop against the green if you want to stand out. For a more subdued look, try a cool color like a blush, light blue or purple, to  differentiate from your surroundings. Blush is ALWAYS a "safe"+timeline+beautiful color for an outdoor location!
Tip #7 – Consider the season. This may seem simple enough, but be sure to check the weather the morning of your shoot. Shorts and sandals probably aren't the best on a cold day, and wearing Uggs in a warmer day might not be the most comfortable option.
Tip #8 – The little important details. Accessories will always help enhance your look. But don't overdo it. A pair of simple earrings, a bright color scarf, a watch for the guy will go very well with a natural scenic background. Always have your nails done – you don't have to get a professional manicure (although you may if that's something you enjoy), just be sure to have nail polish on. This is because there is a chance that there will be close-up photos on your hands. Having your nails done will help you feel at ease 🙂
Tip #9 – Layer it up. Clothes often photograph better when they are layered, so consider adding a cardigan, blazer, or light jacket to finish your look. Layers can also include accessories like a vest, which always add another element to the photos.
Tip #10 – Show Off Your Shoes! With a simple background and neutral colors in the fall, a pair of bold boots can easily let your personality come through!
WHAT NOT TO WEAR?
Anything that makes you uncomfortable.
Lots of logos and loud patterns.
Neon colors.
Avoid brown and black (unless they are your shoes). If you really like black color, you can replace it with Navy blue — Navy blue is the "New Black" 🙂
Anything that's too tight or loose.
What to wear – FOR MEN
The Blazer – Don't fear the blazer.  This simple addition will make your comfortable t-shirt into a dressy outfit.  Its an easy way to make any outfit dressy and casual.  Make sure that your shirt is relatively free of patterns and distracting words.  In general its a good idea to have no logos or words on any clothing for an engagement shoot.
The Oxford – The men's button down shirt is always a classic look.  This is what I would consider a modern casual look.  Wearing this paired with a nice pair of jeans or some corduroys will give you a well dressed look.  Make sure that everything fits, the oxford shirts can be too baggy or too tight, just make sure that it fits for you.
The Vest – Can be worn without a jacket or under a jacket with a tie or a bow tie.  Vests are great because they add style to your outfit and slim you down.  A vest can be a simple black or gray vest or it can be a style statement with a pattern or a bold color.  Just make sure you pick a color and pattern that suits your style.
Engagement outfits are not as hard to put together as you would think.
Just be yourself and be comfortable… and try to enjoy and have fun!
Don't think of the session as a photo shoot. Think of it as a date that happens to have a photographer.
The secret is being confident. It's pretty easy, really. Ever heard the phrase, "fake it till you make it?" Well, there is some major truth to that when you find yourself standing in front of a camera wondering what you should be doing. Try to be relaxed and confident that you are looking good. Trust the photographer 🙂
Save
Save